Illinois Study Abroad Program at Barcelona-El Valles -
Illinois School of Architecture - University of Illinois at Urbana-Champaign
IASAP-BV LECTURES / CONFERENCIES 2019/2020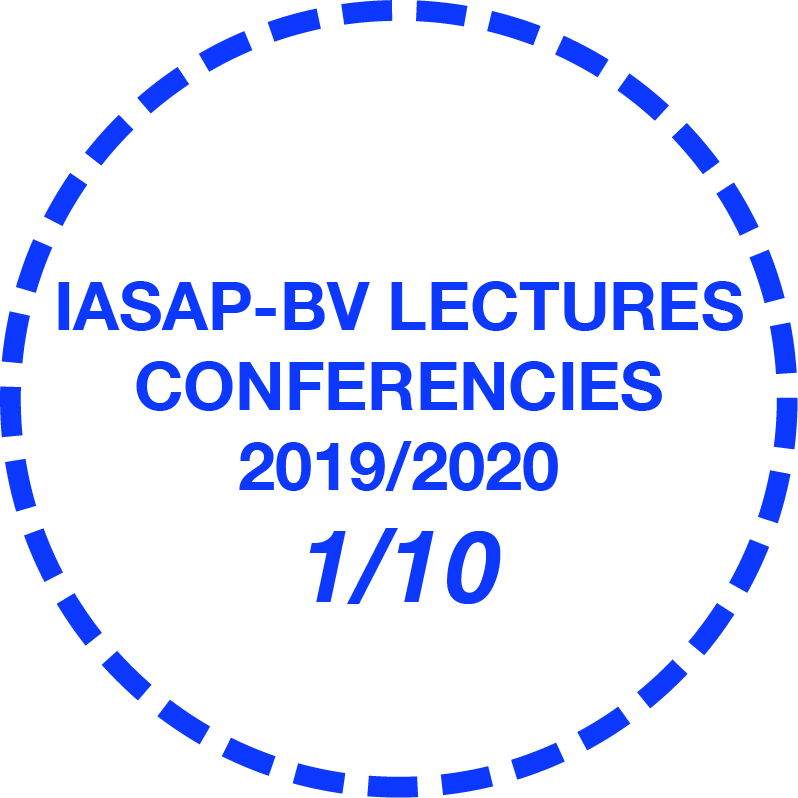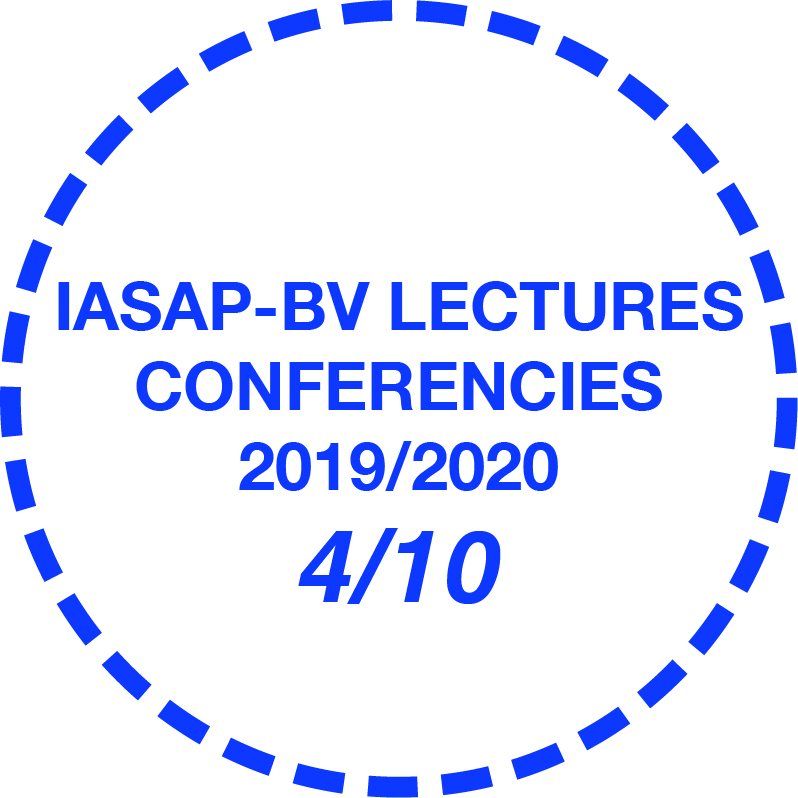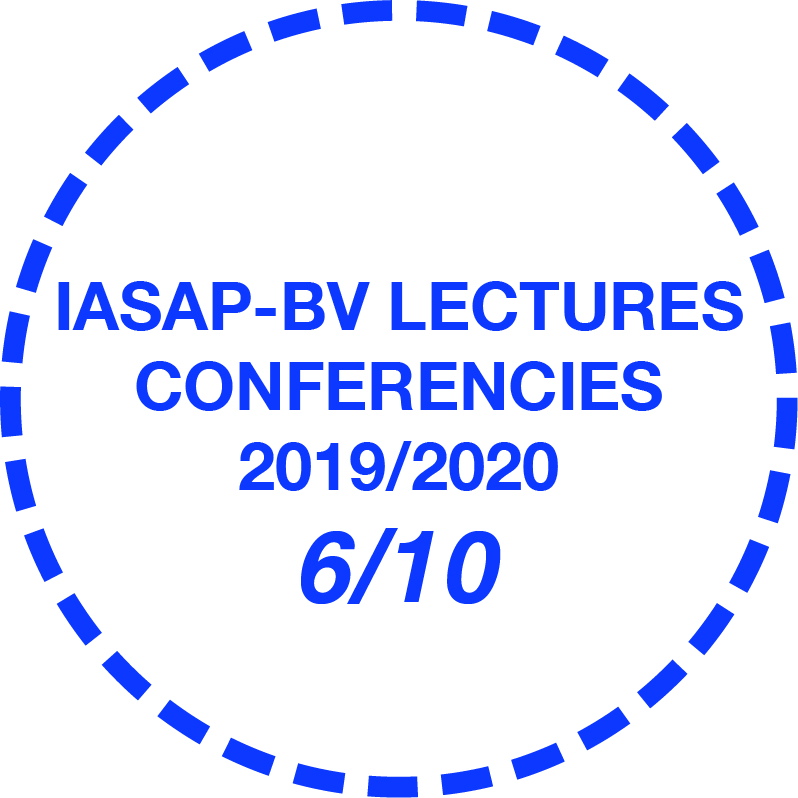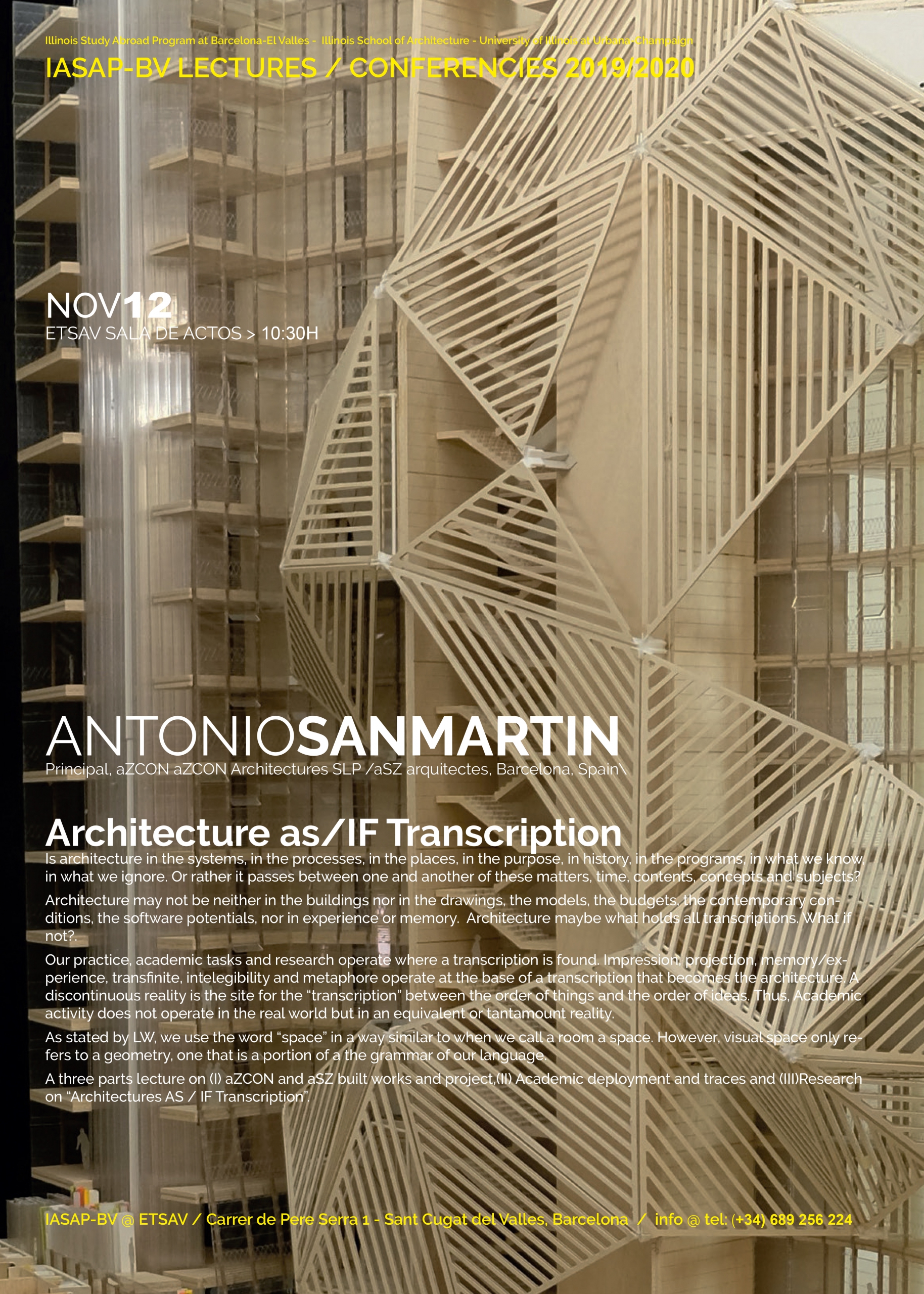 Architecture as/IF Transcription
Is architecture in the systems, in the processes, in the places, in the purpose, in
history, in the programs, in what we know, in what we ignore. Or rather it passes
between one and another of these matters, time, contents, concepts and subjects?
Architecture may not be neither in the buildings nor in the drawings, the models,
the budgets, the contemporary conditions, the software potentials, nor in experience
or memory. Architecture maybe what holds all transcriptions. What if not?.
Our practice, academic tasks and research operate where a transcription is
found. Impression, projection, memory/experience, transfinite, intelegibility and
metaphore operate at the base of a transcription that becomes the architecture.
A discontinuous reality is the site for the "transcription" between the order of
things and the order of ideas. Thus, Academic activity does not operate in the
real world but in an equivalent or tantamount reality.
As stated by LW, we use the word "space" in a way similar to when we call a room
a space. However, visual space only refers to a geometry, one that is a portion of
a the grammar of our language.
A three parts lecture on (I) aZCON and aSZ built works and project,(II) Academic
deployment and traces and (III)Research on "Architectures AS / IF Transcription".
Washington University - St Louis

TALLER TEMÀTIC: FRAGILIDAD Y SEMEJANZA _TRANSCRIPCIONES
OBJETIVOS DEL TALLER
Reflexionar, transcribir y producir alrededor de estas dos condiciones de la realidad y de la creatividad nos acercará a los procesos y a las posibilidades de la formulación del sentido de las arquitecturas posibles, de las que viven bajo el signo de un ritmo temporal urgente, permanentemente transformado, vital y comprometido con las acciones más innovadoras de la vida cultural. Más allá de las propuestas que se experimenten en el taller, quizá lejos incluso de la realidad que centre la experiencia concreta, advertiremos la semejanza, y de este modo el valor propositivo de estos principios, en el propio devenir de un mundo y de unas formas de vida en transformación: el carácter frágil de la propia vida, su inmensa capacidad de cambio, la disolución de las formas y figuras que creíamos estables. Proyectar bajo el signo de la fragilidad y en la confianza en el mecanismo de la semejanza puede acercarse con intensidad a las formas actuales de producción artística y de comprensión de un modelo de mundo acorde con nuestros conocimientos.
Washington University - St Louis
DEAN'S LETTER
Proyectes II matí. ETSAB. Grup Antonio Sanmartin (ASG_*) semana10y12My2016
Opción A – Sept2013-Junio2014 "Port BCN"
/ "Buenas noticias para el Port"
Opción B – Sept2013-Enero2014 "Equipamientos para las dos orillas del Besós" / "Mojarse en el Besós"
Opción C – Opción libre